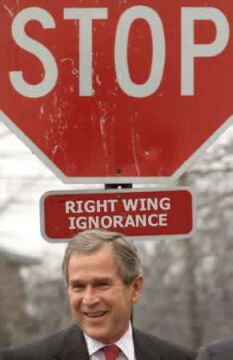 Like father, like son.
Duhbya
Poppy
GOV. BUSH: Because the picture on the newspaper. It just seems so un-American to me, the picture of the guy storming the house with a scared little boy there. I talked to my little brother, Jeb--I haven't told this to many people. But he's the governor of--I shouldn't call him my little brother--my brother, Jeb, the great governor of Texas.
JIM LEHRER: Florida.
GOV. BUSH: Florida. The state of the Florida.--The NewsHour With Jim Lehrer, April 27, 2000
"Boy, they were big on crematoriums, weren't they?" --during a tour of Auschwitz, 9/27/87
"How do you know if you don't measure if you have a system that simply suckles kids through?"—Explaining the need for educational accountability in Beaufort, S.C., Feb. 16, 2000
"When I need a little free advice about Saddam Hussein, I turn to country music." --at a country music awards ceremony in Nashville, Tennessee. Bush also turns to country music whenever he's on the campaign trail. In New Hampshire, he quoted lyrics from a song by the Nitty Gritty Dirt Band, but had some trouble with the group's name, referring to them as the 'Nitty Ditty Gritty Great Bird.' 10/2/91
"I don't remember debates. I don't think we spent a lot of time debating it. Maybe we did, but I don't remember."—On discussions of the Vietnam War when he was an undergraduate at Yale, Washington Post, July 27, 1999
"I'm delighted that Barbara Bush is with me today, and I--She got a good, clean bill of health yesterday from Walter Reed Hospital, I might add, and then--But I'm taking another look at our doctor. He told her it's okay to kiss the dog--I mean--no--it's okay to kiss your husband, but don't kiss the dog. So I don't know exactly what that means." --during a speech, 'Project Education Reform: Time for results,' delivered at a Union, New Jersey, high school. Bush, who once said his wife 'epitomizes a family value,' usually tries to work her into his speeches. 4/13/89
"I know how hard it is for you to put food on your family."—Greater Nashua, N.H., Chamber of Commerce, Jan. 27, 2000
"We're enjoying sluggish times, and not enjoying them very much." --1/2/92
"The important question is, How many hands have I shaked?"—Answering a question about why he hasn't spent more time in New Hampshire, in the New York Times, Oct. 23, 1999
"To kind of suddenly try to get my hair colored, and dance up and down in a miniskirt or do something, you know, show that I've got a lot of jazz out there and drop a bunch of one-liners, I'm running for the president of the United States...I kind of think I'm a scintillating kind of fellow. --defending his own particular brand of charisma to reporters in Ohio during a campaign stop. Bush asserted that voters weren't looking for 'pizazz.' 'What's wrong with being a boring kind of guy?' he asked. 4/26/88
"It was just inebriating what Midland was all about then."—From a 1994 interview, as quoted in First Son, by Bill Minutaglio
"And let me say in conclusion, thanks for the kids. I learned an awful lot about bathtub toys--about how to work the telephone. One guy knows--several of them know their own telephone numbers--preparation to go to the dentist. A lot of things I'd forgotten. So it's been a good day." --at the Emily Harns Head Start Center in Catonsville, Maryland. 1/21/92
"Laura and I really don't realize how bright our children is sometimes until we get an objective analysis."--Meet the Press, April 15, 2000
"The economy is moving in the right direction." --10/4/91
"I don't want to buy into the predicate about [the U.S. being in] another recession. I don't feel that way." --10/25/91
"The economy's turned the corner, headed for recovery." --10/31/91
"I'm not prepared to say we are in a recession." --11/8/91
"It will not be a deep recession." --1/4/92
"The economy is in free-fall." --1/15/92
"The senator has got to understand if he's going to have—he can't have it both ways. He can't take the high horse and then claim the low road."—To reporters in Florence, S.C., Feb. 17, 2000
"You cannot be president of the United States if you don't have faith. Remember Lincoln, going to his knees in times of trial and the Civil War and all that stuff. You can't be. And we are blessed. So don't feel sorry for--don't cry for me, Argentina." --to employees of the Liberty Mutual Insurance Company in Dover, New Hampshire, while campaigning before the New Hampshire Primary, stressing the importance of prayer. 1/15/92
"I don't have to accept their tenants. I was trying to convince those college students to accept my tenants. And I reject any labeling me because I happened to go to the university."—Today, Feb. 23, 2000
"Obviously, when you see somebody go berserk and get a weapon and go in and murder people, of course it troubles me." --on the Killeen massacre, in which a lone gunman murdered 23 people in a Texas cafeteria. Though troubled, Bush did not see the tragedy as a reason to rethink his opposition to gun control. 10/17/91
A Virtuoso of Verbal Vexation
Sometimes you just gotta let a guy fly solo
"I was raised in the West. The west of Texas. It's pretty close to California. In more ways than Washington, D.C., is close to California."—In Los Angeles as quoted by the Los Angeles Times, April 8, 2000
"I'm really skeptical of people who try to parlay exposure at sporting events into votes." --Duhbya, on his way to this year's Kentucky Derby
"They want the federal government controlling Social Security like it's some kind of federal program."—St. Charles, Mo., Nov. 2, 2000
"It's important for us to explain to our nation that life is important. It's not only life of babies, but it's life of children living in, you know, the dark dungeons of the Internet."—Arlington Heights, Ill., Oct. 24, 2000 (Author's note: BOOGA BOOGA! Stay outta my dungeon!)
"If I'm the president, we're going to have emergency-room care, we're going to have gag orders."
"It's one thing about insurance, that's a Washington term."
"I think we ought to raise the age at which juveniles can have a gun."
"I know the human being and fish can coexist peacefully."—Saginaw, Mich., Sept. 29, 2000
"I will have a foreign-handed foreign policy."—Redwood, Calif., Sept. 27, 2000
"We don't believe in planners and deciders making the decisions on behalf of Americans."—Scranton, Pa., Sept. 6, 2000
"I don't think we need to be subliminable about the differences between our views on prescription drugs."—Orlando, Fla., Sept. 12, 2000
"Our priorities is our faith."—Greensboro, N.C., Oct. 10, 2000
The edumacation parsident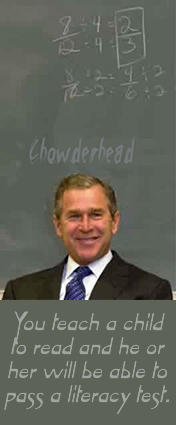 The leader of the free world?
You've got to be kidding!
"George W. Bush failed another foreign policy quiz. This time a Canadian comic posing as a reporter told Bush that Canadian Prime Minister "Jean Poutine" had endorsed him, the AP reports. "I appreciate his strong statement, he understands I believe in free trade," Bush replied. "Canada's prime minister is Jean Chretien, not Poutine, and he has endorsed no one in U.S. politics. Poutine is a popular fast food in the French-speaking province of Quebec, consisting of French fries, gravy and cheese."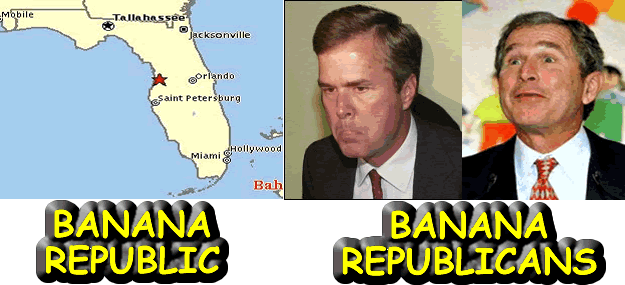 Rest in peace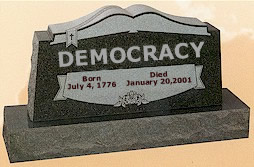 Visit these other fine sites:
The memo the Bush Campaign hoped you'd never read
You might be a dittohead conservative if...
GW Bush.com, there ought to be limits to freedom
NOTICE!!!! This site is not affiliated in any way with any political party or organization.



The revolution will not show you pictures of George Bush blowing a bugle and leading a charge by John Ashcroft, Colin Powell, and Dick Cheney to eat hog maws confiscated from a Harlem sanctuary...
The revolution will not be televised